Dive Master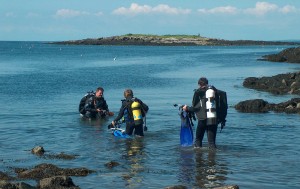 Duration: 8 Days (approx.)
Location: South Townsville, QLD
Product code: PCM9EY
The Divemaster Course is the first professional level certification. During the course you will learn how to work with divers, lead certified divers, and act as a dive guide showing divers underwater dive sites and the marine life that inhabits those dives sites. You will increase your knowledge about physics and physiology as well as increase your proficiency with your scuba and snorkeling skills.

Who is this course for?
The advanced diver interested in working in the dive industry as a professional dive guide or moving on to become an instructor.

Course prerequisites:
Minimum age 18
Certified Advanced Open Water Diver or equivalent; advanced certification must include verifiable experience in deep, navigation, night, and limited visibility specialties
Certified Rescue Diver or equivalent
Provide proof of current CPR, first aid and oxygen provider
Provided proof of at least 40 logged dives
* Note: First Aid, CPR or Emergency Oxygen Provider courses may be combined with the program by RAD's qualified RTO instructors.
What you can expect to learn:
The Divemaster Course takes an in-depth look at all of the following and more:
Agency standards and procedures
History of Agency
Code of ethics and professionalism of an Divemaster
Products and procedures

How to place an order
Yearly renewals

Liability and insurance

Risk management
Waivers and releases
Filling out an accident report

Knowledge Development

Equipment
Physics and physiology of diving
Medical problems related to diving
Use of dive computers and tables
Diving environment
Dive planning and dive management control
Problem solving
Underwater and surface communications
Diver assistance
Avoiding out of air and emergency situations
Recommended safe diving practices
Boat diving procedures
Shore/beach diving procedures
Night diving procedures
Accident management
Emergency procedures

Leadership development

Planning group dives
Divemaster check lists and logs
For more information please visit our website or ask one of our staff members.
Schedule:
The Divemaster Course will be scheduled according to customers demand. If you are interested in taking this course just contact us and we will organise one according to your schedule and the availability of our instructors.