Freediving course (Stage A) with ANT JUDGE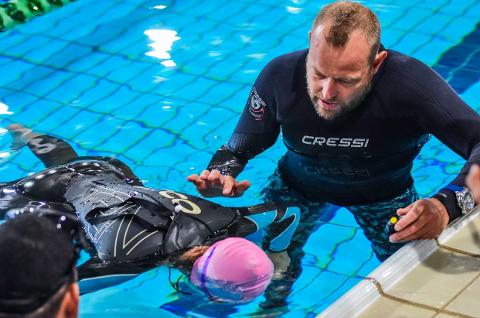 Duration: 2 Days (approx.)
Location: South Townsville, QLD
Product code: P6YXRT
Book Now
Remote Area Dive has invited Ant Judge holder of 7 national
records in both depth and pool disciplines and spearfishing legend. To
run a Stage A (beginner ) Apnea Freediving course.
On this course we will cover these subjects:
- Freediving categories.
- Safety for Freediving. Rules of behaviour for Freediving.
- The buddy system and the role of the buddy and diver in
training.
- Training session planning.
- The difference between a depth session and a Spearfishing
session.
- Equipment for Freediving. Which mask, snorkel, fins and
suit to choose when you go training...
- Physiology of Freediving.
- Proper breathing for Freediving. We will discuss the first
of 3 stages of proper breathing.
- Relaxation techniques for static training. Relaxation is
the most important aspect of static training.-
- Equalisation techniques.
- Preventing pressure injuries (barotraumas) whilst
Freediving.
- Freedive emergencies.
- Avoiding and reacting to blackout and "surface samba"
(loss of motor control).
Includes:
1 x Classroom theory and Pool work
1 x Out on the Reef freediving to 20m
Morning tea, Tea, Coffee, water and afternoon tea provided
on both days. Lunch will also be provided out on the reef as well as lead
weight for both days.
Not INCLUDED - Suit, mask, snorkel, fins
Course students will be able to purchase equipment at a
discount on both day.